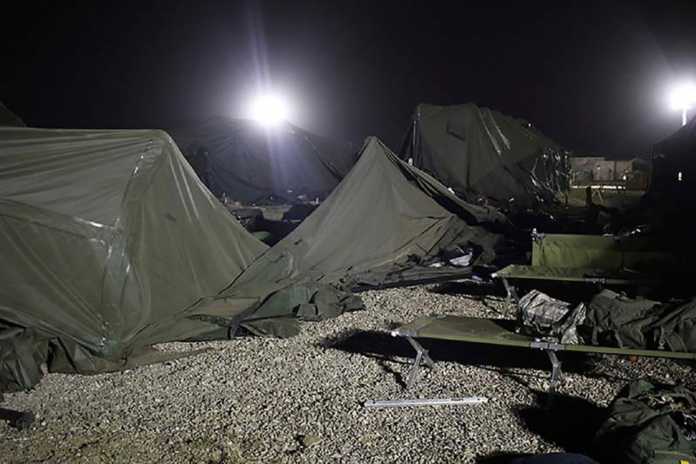 Photo by Spc. Derek Cummings, 91st Training Division
Sleeping tents for the 228th Combat Support Hospital were blown down by a helicopter rotor wash around 8:30 p.m. July 18. The 22 injured soldiers were treated and released back to their units by the next morning.
JOLON — An Army helicopter blew down two tent structures at Fort Hunter Liggett last Wednesday night, injuring 22 soldiers at the base.
According to Amy Phillips, public information officer at Fort Hunter Liggett, the U.S. Army UH-60 Black Hawk helicopter was landing in a remote training area at about 8:30 p.m. on July 18 when the wind from its rotor caused the tents to collapse.
Phillips said the majority of the injuries were minor, with most being treated on site. Of the 22 soldiers injured, two were evacuated by air to Fresno, Calif., and another two were taken by ground to Twin Cities Community Hospital in Templeton, Calif.
All the soldiers, including the four who were evacuated, have since been treated and released.
The accident occurred during an annual training exercise for thousands of troops from the U.S. Army Reserve, Army National Guard, Air Force, Navy and Canadian Armed Forces.