SOLEDAD — Premiere Cinemas in Soledad hosted its grand opening last Saturday, drawing hundreds of moviegoers who filled the lobby area for the celebration. 
Multiple speeches were delivered from company representatives as well as area leaders, and four screens were open to play a free screening of the 2005 film "Zathura."
There were also merchandise giveaways, and the concession area served free popcorn and soda.
Soledad High School Band played different pieces of music, including from such movies as "Star Wars," at the building's entrance at 499 Nestles Road as guests entered to celebrate the new movie theater.
"This was over 10 years in the making and it took tons of people to make this happen," said Soledad Mayor Anna Velazquez, noting the many children in the crowd and how important the business was for families. "This movie theater is a catalyst for more businesses."
The May 21 official grand opening was years in the making, with the eight-screen theater having held a soft opening on Oct. 29, 2021, to a steadily increasing attendance. The multiplex has an additional two rooms that can be turned into screening rooms in the future. 
The groundbreaking for the building took place in 2019, and it has a similar layout to Premiere Cinemas' other locations in Hollister and Los Banos.
"It's happening in Soledad and it is happening this time," said Soledad Mayor Pro Tem Marisela Lara in her speech to bring out cheers from the audience. "It's not coming soon. It's now. And let's make it happen for our community."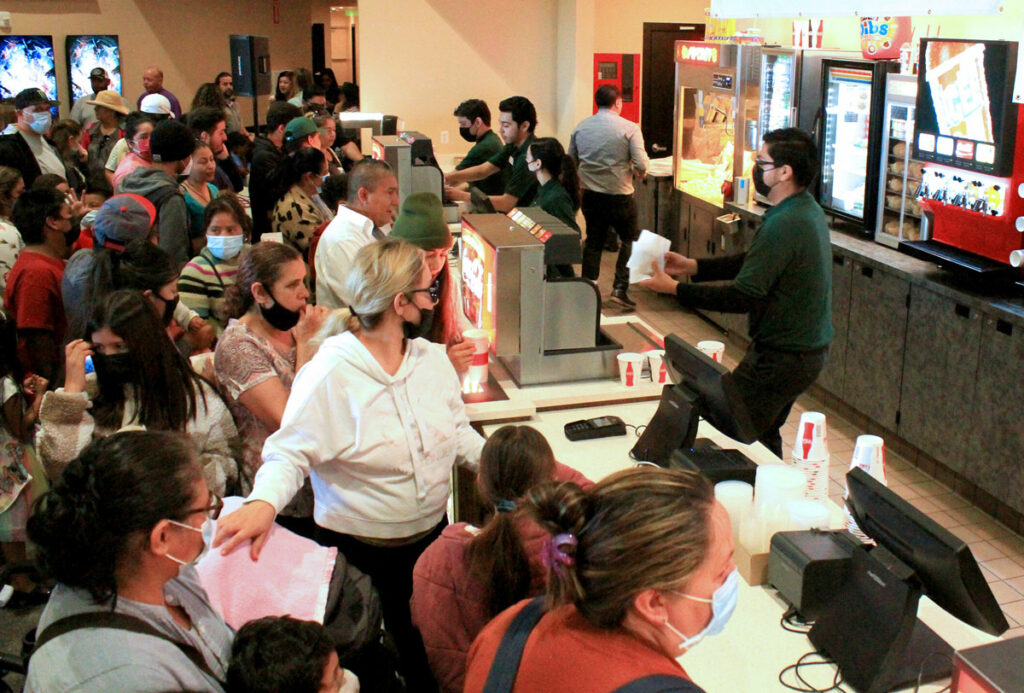 With summer around the corner, families now have a new venue to see the latest movies in the middle of South Monterey County.
"We're proud to bring the theater and have an entertainment venue in South County and Soledad," said Premiere Cinemas General Manager Craig Tankersley.
Tankersley said the choice of Soledad came down to identifying a growing community that could use an additional entertainment source.
He thanked the crowd for coming out to the grand opening and said upcoming movies throughout the year are expected to include "Top Gun," "Buzz Lightyear," "Jurassic World: Dominion," "Elvis," "Bullet Train" and "Thor: Love and Thunder."
Soledad City Manager Brent Slama said the theater is the first business in an entire shopping center in development. Grocery Outlet is currently under construction, and he said the store should be operational by this fall.
More construction activity is planned within the next year for other businesses, as Slama emphasized the potential for restaurants as future neighbors for the theater to make a complete weekend or evening experience for locals.
"Not having to go to Salinas or beyond for entertainment is a huge thing," Slama said. "It's nice to say there's a movie playing and it takes me five minutes or less to get here."
He noted the empty field now having a cinema as progress for Soledad, and allows for dollars to be spent in the city rather than elsewhere, which leads to jobs and opportunities locally.
"Gas is way too expensive now," Slama said. "It's way better to come to the movies right here."
Adding to the economic benefits, Velazquez mentioned the environmental impact, as well.
"We're making a difference in climate action," Velazquez said. "Now we don't have to travel to other places. Now you guys get to walk here or even get to bike here. We are making those impacts."
Velazquez reminisced about growing up in Soledad when it had two theaters, one that played English movies and one that offered Spanish films.
She noted the memories of seeing movies with family members, and how current and future generations will be able to create those memories at the new theater. She shared the experience of doing just that while watching "Encanto" with her sons.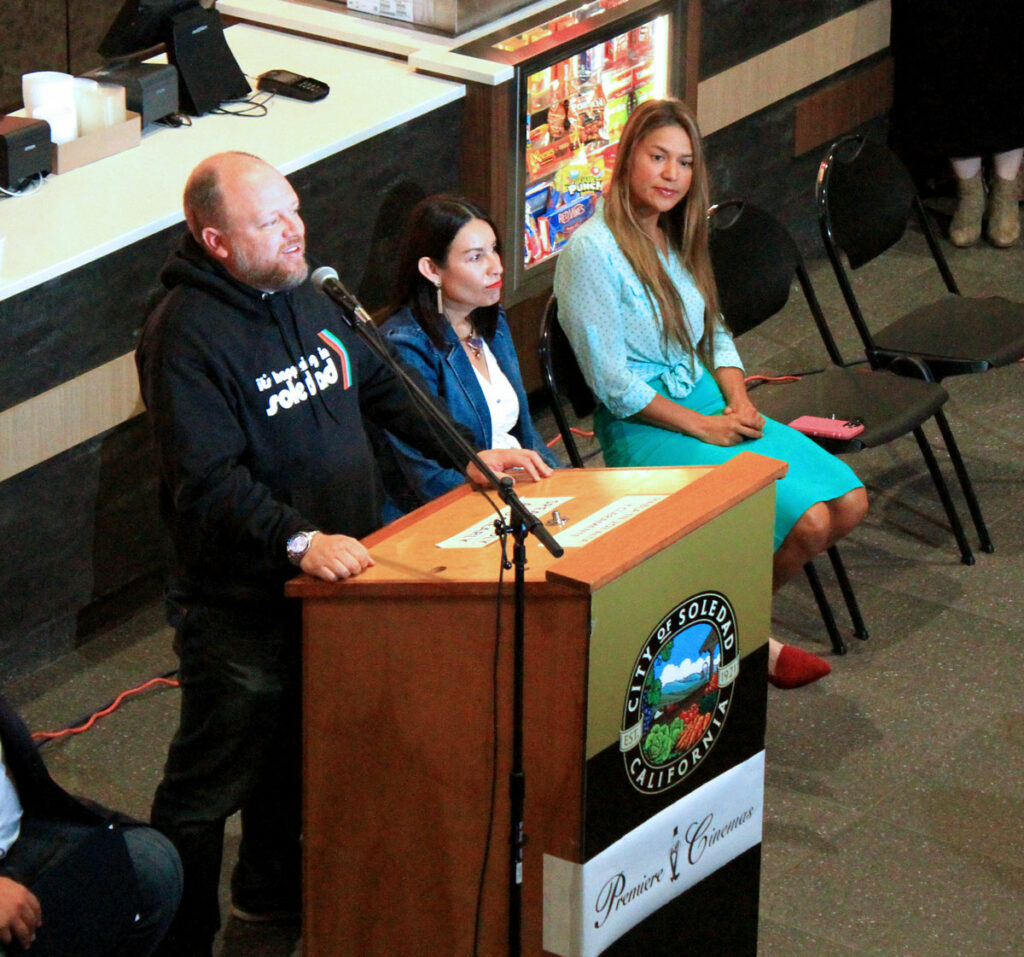 Velazquez was one of two mayors in attendance, as Gonzales Mayor Jose Rios gave a short speech. He was originally from Soledad before moving north.
"It's a great comfort to know that a movie theater is here now," Rios said. "Certainly my wife and I will make use of it, and my son, instead of driving all the way to Salinas, will come down here."
The Covid-19 pandemic not only brought a delay to the theater's opening, but also brought a shift in viewing activity as people sheltered in place. Movie companies changed plans for theatrical releases to become streaming offerings.
Assistant Manager Tyler Gonzalez noted the theater has posters for "Turning Red," which was intended as a theatrical release before a switch to streaming during the pandemic. Now, theatrical releases are on the rise as those entertainment options again undergo launch changes.
"You can watch your stuff at home, but there's a big difference when you come in here and get the immersive experience with 100 of your closest friends," Slama said. "Streaming certainly was something you saw during the pandemic, but it's like going to a streaming meeting, it's not the same."
Slama shared his experiences watching "Dr. Strange" in the theater and noticing the sense of community in a full room along with the better-tasting popcorn. That shift requires movie companies to stop being timid about their theatrical releases.
"I'm hoping that Hollywood steps up and puts programs in that people want to see that will get more attendance," Slama said.
Monterey County Supervisor Chris Lopez said he sees the theater as an "opportunity" for the community.
"I see kids who are going to watch movies here, who are also maybe going to sell tickets in the front and have that first summer job here in this building," he said.
"We have to support this cinema," Lopez added. "I can tell you, the theaters in Salinas aren't going to sponsor your soccer teams, your little league teams. They're not going to be the same people buying the food at your grocery store. The ones here who have invested in your community and deserve your support and your hard-earned dollars."
Event announcer Matthew Arnett commented on the transformation, which has already taken place. He noted the many people it took for a "vacant lot that was formerly used to collect runaway plastic bags and turn it into this movie theater, which is going to be surrounded by a shopping center. It's happening in Soledad."