SOLEDAD — A pedestrian was killed and two police officers were injured last Tuesday following a stolen vehicle pursuit that ended in Soledad.
According to Soledad Police, the chase started in Greenfield at about 10:15 a.m. on Nov. 16. Officers attempted to stop the driver — later identified as 25-year-old Paulo Cesar Alcaraz-Ortiz — using a spike strip on Highway 101 in Soledad.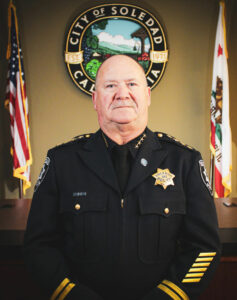 Police said Alcaraz-Ortiz was driving recklessly and trying to hit pedestrians and other cars in town.
"As we attempted to stop the pursuit today, one of our residents was struck and killed by the suspect," Soledad Police said on social media afterward. "The suspect intentionally ran over the victim and attempted to continue on."
The pedestrian killed was identified as 65-year-old Guadalupe Garcia, who police said was a well-known member of the community and a relative to one of the local law enforcement officers.
The pursuit ended at the intersection of Front Street and Nestles Road in Soledad.
One of the officers injured was Soledad Police Chief Damon Wasson, who hit the suspect head-on, ending the chase. The other officer was with the Greenfield Police Department and suffered a minor injury.
"Although Chief Wasson would not classify himself a hero, we do. Without regard for his own safety, he drove his police unit head-on into the suspect vehicle trying to flee, stopping him from continuing up Front Street and causing more harm," Soledad Police said. "These are the days we do not want you to experience and we are greatly saddened by the loss of life today. The condolences and prayers of the Soledad and Greenfield Police Departments go out to the family of our victim."
Alcaraz-Ortiz was taken to Monterey County Jail and is facing murder charges.
The day after, Nov. 17, Wasson issued a statement on social media giving thanks to everyone for their kind words and well-wishes.
"Yesterday the events that occurred were incredibly tragic, and words cannot express my sadness for the family of Mr. Garcia, nor can words express the extreme pride I have for the officers here in Soledad and Greenfield," Wasson wrote. "I am thankful to be working for such a great community and alongside the incredible officers working at the Soledad and Greenfield Police Departments. I would also like to thank American Medical Response, Soledad Fire, Cal Fire, California Highway Patrol, Monterey County Sheriff's Office, our incredible dispatchers, our Volunteer Unit, and all the City staff who came to our aid assisting us during this event."