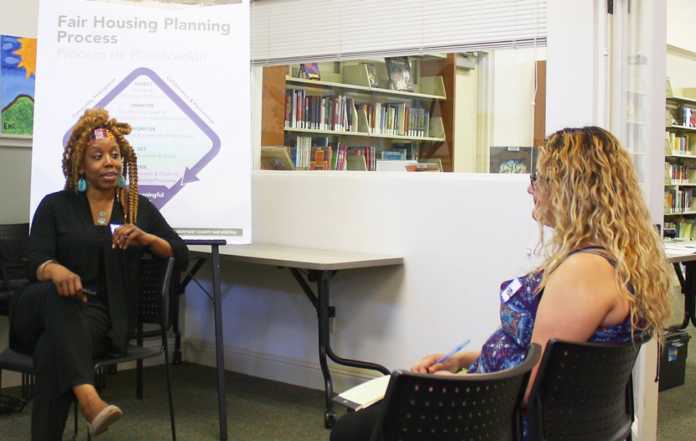 Photo by Samantha Bengtson
MIG Project Associate Jamillah Jordan (left) speaks with a fair housing workshop participant about protected classes.
SOUTH COUNTY — The last of four fair housing community workshops took place June 23 in Gonzales with the goal of providing awareness about fair housing and identifying some of the housing problems in South County.
Fair housing is the right to choose housing free from unlawful discrimination. Both federal and state government define areas of housing discrimination and have laws that protect those sets of individuals.
Protected classes in the United States include race, color, national origin, disability (mental or physical), religion, sex and familial status. The State of California has expanded on the protected classes to include martial status, ancestry, source of income, sexual orientation, age, physical characteristics or arbitrary, such as tattoos or belonging to a political party, citizenship or spoken language.
"Your credit status will affect your ability to buy a house, but your racial status should not," said Jamillah Jordan, project associate with MIG Inc. "If you have poor credit, that would make you a poor candidate to buy a house, but if you don't like someone because of who I am, the color of my skin, that shouldn't prevent me from buying a home."
An example given during the workshop about a fair housing issue was if a $5,000 per month rent would be a fair housing issue.
According to Echo Housing Executive Director Majorie Rocha, that would only be a fair housing issue if the landlord was increasing the rent to discriminate against you based on a protected class.
"If the landlord charges across the board $5,000 whether you're pink, green, brown, yellow, whatever, that's not discriminatory," Rocha said.
MIG, along with Monterey County, Gonzales, Castroville, Monterey, Seaside and other cities are working on a study to look at housing barriers in Monterey County and ways they can improve upon it. The study is looking at pockets of poverty, areas of segregation or integration, and disability and access.
"We are in the community participation phase of the process," Jordan said. "We have a survey as well, to make sure we're getting that community input about these issues."
Community members who were unable to attend the workshops can still participate by taking a short online survey at www.surveymonkey.com/r/Monterey_AI. Once the input is gathered, the collected information is going to be prioritized that could lead to housing changes in Monterey County.
"We need housing for everybody," said Rosa Guerrero from the County of Monterey.