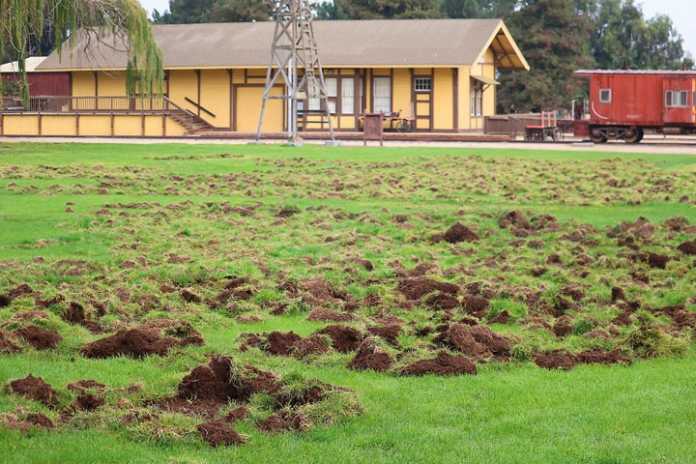 KING CITY — A sounder of wild hogs tore up the fields at San Lorenzo County Park in King City over the weekend, leaving a mess for park employees and volunteers who surveyed the damage Monday morning.
According to Park Supervisor Steve Thompson, this is an ongoing occurrence with the feral pigs, which come down from nearby hills every fall to hunt for food at the park.
"Every year in late autumn, the hogs come down out of the hills and move along the river corridor looking for grubs in the lawn that are tasty treats for them as well as nutritious," Thompson explained.
"Once we receive some steady rain, fungus and mushrooms will start growing under trees, like pine trees, and the hogs will start moving toward that stuff."
In past years, park employees have been able to piece the lawn back together, as the roots were still intact and would retake after some watering.
This year, however, the damage to the fields is extensive and outweighs the time it would take for staff to repatch the grass. Thompson said they might have to reseed the affected areas instead.
He added that the park tries to control the wild hog situation as best as it can, but sometimes there is "more damage and hogs than we can keep up with."
Additional reporting by Jon Allred.