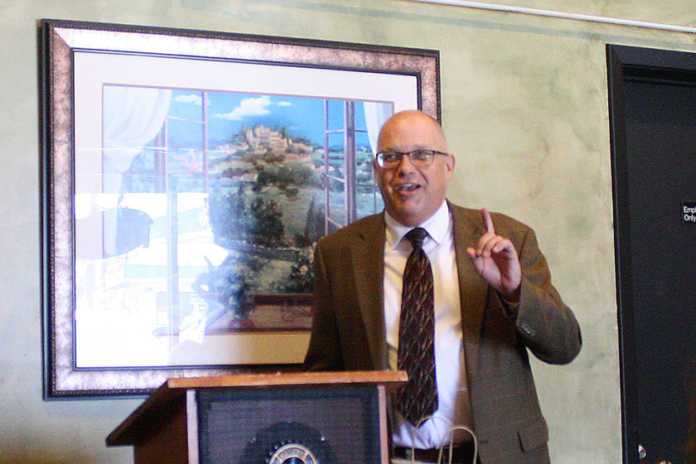 SOLEDAD — Monterey-Salinas Transit (MST) General Manager and Chief Executive Officer Carl Sedoryk discussed the future of MST transportation and facility location to Soledad Rotarians on Aug. 10.
Public transit has been available in Monterey County for 126 years. The Monterey-Salinas Transit began in April 1891 as the Monterey Pacific Grove Street Car Railway, which was horse-drawn street cars that ran along rails. The railway ran from the old Del Monte Hotel all the way to Central Avenue in Pacific Grove.
Today, the Monterey-Salinas Transit has a zero emission, 100 percent battery inductively charged trolley, the first of its kind in the United States. Sedoryk's first project in 2002 was to bring public transit to South County, line 23, which has had about 2.5 billion passenger boardings in South County, according to Sedoryk.
"It's one of our fast growing routes," Sedoryk said. "We've added service in each city, which has its own circulator bus that MST can call. Services run all the way down to Templeton, Paso Robles, all the way to the San Jose Airport."
Sedoryk said that Camp Roberts and Fort Hunter Liggett are both served by public transit. The largest reason for a trip using MST in South County traveling north is students going to Hartnell College, Palma and Notre Dame.
"Overall, MST provides 4.5 million passenger trips per year," Sedoryk said.
MST buses have added GPS tracking, which transmits information about whether buses are early or running late. Approximately 90 percent of MST passengers arrive at their destination within five minutes of the schedule.
"We are building a new facility and have two more electric vehicles on order," Sedoryk said. "We are trying to grow our electric vehicle fleet."
A new facility is on the future agenda for Monterey and another facility in King City. The new facility will reduce the greenhouse gas emissions, provide better service to South County communities, and save money. The Department of Agriculture is involved with the King City facility and grant monies will also fund the project.