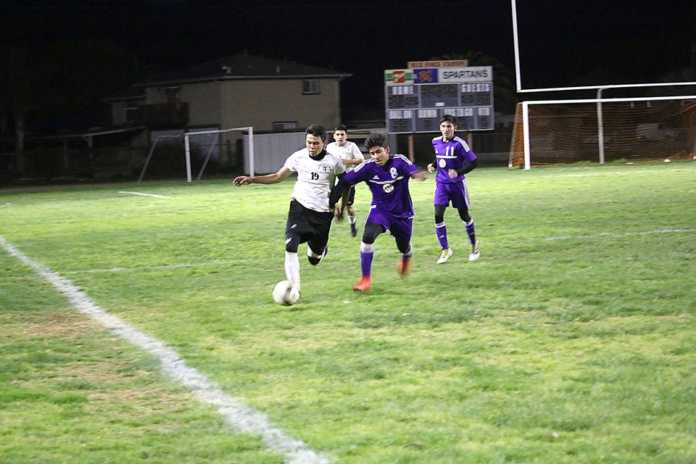 SOUTH COUNTY — With a handful of games remaining in the Mission Trail and Coastal League, South County boys and girls teams are playing hard for a shot at a league title or Central Coast Section Playoff spot.
The Soledad boys are in first place in the MTAL just points ahead of second place Gonzales, and the Greenfield girls are in second place in the MTAL behind league-league Pacific Collegiate.
In the Coastal League the Gonzales girls are in second place, just one game behind Anzar.
BOYS
It was a frustrating week for the front-running Soledad Aztecs as they played defending champion to a 3-3 tie and finished the week with a 2-2 tie against fourth place Carmel.
"We did not have a good week," said Soledad head coach Reyes Mendoza. "When we played Carmel at home the first time we controlled the game. The Gonzales game was a physical game but it was a game I felt we should have won."
Marco Ceja and Carlos Esqueda scored the goals in the Carmel game. Jesus Rodriguez scored two goals in the Gonzales game and Esqueda scored one goal.
In the Gonzales game Nazareth Amador scored a goal in the first five minutes of the contest. Soledad scored twice in the first half to take a 2-1 halftime lead and increased the lead to 3-1 with a quick goal at the start of the second half.
Gonzales battled back to cut the lead with another goal by Amador. With less than a minute to play Jaime Perez tied the game with a shot that just got by the Soledad goalie.
"Jaime Perez had just been called up from the JV team," said Gonzales coach Juan Flores. "I felt we could have done a better job in the first half defending the goals by Soledad."
Gonzales also had a tough game with Carmel two days later at home as the first half ended with a 0-0 tie. In the second half Erik Mata scored one goal off a penalty kick and added a goal with a shot of the left side of the goal post.
"I really thought Carmel would beat us because they are fast and took lots of shots," said Flores. "We were lucky the shots did not turn into goals."
In the JV contest between Soledad at Gonzales the Spartans won by a 2-0 score. Soledad followed that game with a 1-0 win over Carmel on a goal by Roberto Ambriz. The Aztecs are 6-1-1 in JV play.
MTAL standings for the boys are: 1. Soledad 7-0-2; 2. Gonzales 6-1-1; 3. King City 5-2-2; 4. Carmel 3-3-3; 5. Greenfield 3-4-2; 6. Stevenson 1-7; 7. Marina 4-10.
GIRLS
The Greenfield Lady Bruins played three games last week in the MTAL and finished with the grueling schedule with a tie, a loss, and a tie.
Greenfield began the week with a 1-1 tie with King City. Dulce Avalos scored for Greenfield off an assist by Katie Martinez.
Last Wednesday night the Lady Bruins were beaten 3-2 at home by the Soledad Aztecs. Dulce Avalos and Julia Carrasco scored for Greenfield and Maria Sanchez, Micaela Mojica, and Karly Venegas scored goals for the Aztecs.
Greenfield finished the week with a 4-0 victory over Stevenson. Carrasco scored three goals and Avalos added one goal. Iris Alcala earned an assist and Delilah Rocha earned the shutout at goalie. King City completed the week with a 4-1 win over Stevenson and were led by three goals by Jatziri Gaxiola.
The Soledad girls lost 4-2 to league-leading Pacific Collegiate in their first game of the week.
Mojica and Vivian Fausto scored goals. The Lady Aztecs won their fourth league game on Friday, beating Carmel 1-0 with a goal by Monique Ascencio. Julissa Tinajero earned the win goalie.
The Greenfield JV team defeated King City 8-0 last week with three goals by Carla Sanchez, two goals by Emelin Chavez, a goal by Devina Aparico, a goal by Karla Ruiz, and another goal by Bianca Munoz.
Greenfield defeated Soledad by a 1-0 score on a goal by Veronica Aguilar.
The Gonzales High girls had two scheduled game cancelled last week in the Coastal League and will probably receiver forfeit wins. The Spartans have a 5-1-1 league mark for second place behind 6-1-1 Anzar.
MTAL girls standings are: 1. Pacific Collegiate 7-0-3; 2. Greenfield 6-2-2; 3. Pacific Grove 6-3; 4. Carmel 5-4-1; 5. King City 5-3-1; 6. Soledad 4-5-1; 7. Santa Catalina 1-7; 8. Stevenson 0-10.