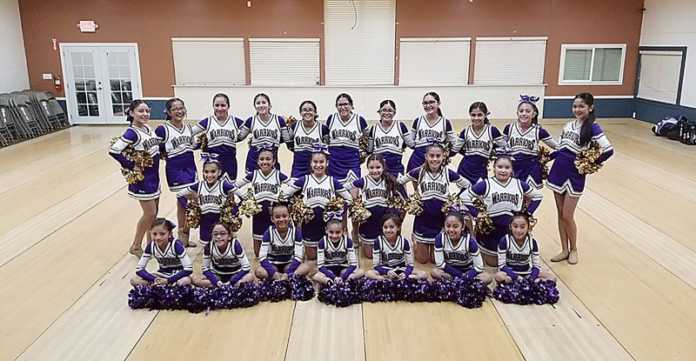 SOLEDAD — A first place finish at the Jamz Regional Cheer Competition in San Francisco earned the Soledad Warrior Cheerleaders a bid to compete at the Jamz Nationals Cheer Competition that will take place in Las Vegas on Jan. 19-21. The Warrior cheer squads competed at the regional competition on Dec. 2 at the Cow Palace.
The teams competed in the Jr. Pee Wee Division, ages 8-9, the Pee Wee Division, ages 9-11, and the Midgets Division, 11-14.
Jr. Pee Wee team members are: Jasmine Cardenas, Delyaiah Ocampo, Gabriella Hernandez, Alexis Rodriguez, Juliet Villegas, Justina Botello, Brianna Chavez.
Pee Wee team members are: Sophia Gonzalez, Jolea Celaya, Kayla Vasquez, Savannah Acosta, Teresita Chavez, Daija Gutierrez.
Midget team members are: Leslie Valdez, Alianna Celaya, Alexis Lamere, Sierra Ramirez, Skye Ruiz, Andrea Martinez, Erika Aguirre, Destiny Villegas, Kayla Garibay, Genesis Ventura, Julissa Perez.
On Monday, Jan. 8, the Soledad Warriors Cheer squads will by hosting a Loaded Baked Potato Fundraiser from 11:30 a.m. to 3:30 p.m. at the California Gourmet Pizza Parking Lot in Soledad. The fundraiser is sponsored by Nana's BBQ.