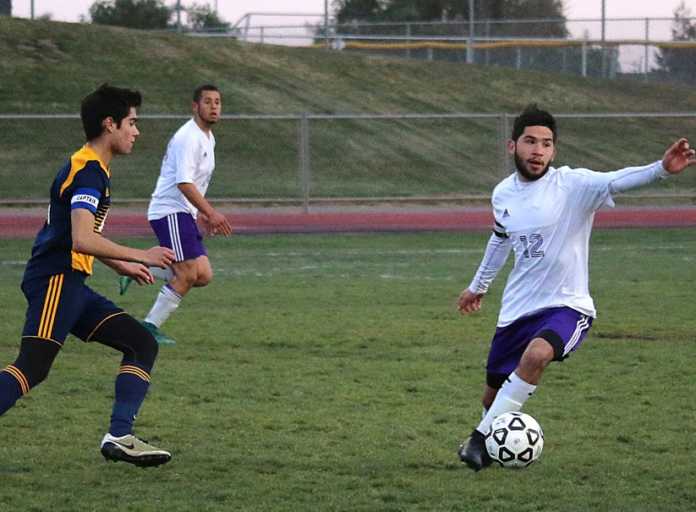 SOLEDAD — Alexis Lopez scored on a pass from teammate Alexis Sanchez in the 12th minute of the second half as the host Soledad High Aztec boys soccer team defeated the Menlo School Knights 1-0 on Saturday in the quarterfinals of the Central Coast Section Division III Playoffs. Soledad (#4 seed) will travel to San Jose to play the #8 seed Mt. Pleasant Cardinals of San Jose at Westmont High School.
Against the #12 seed Menlo Knights the Aztecs held off a few attacks at the net in the first half and played strong defense for much of the game behind the leadership of fullback Alexis Sanchez. The Aztecs had chances to score in the first half but the shots were caught in midair by the Oaks goalie.
"The team did well enough," said Soledad head coach Reyes Mendoza. "Our boys are not 100% right now. Flu has really taken out some players. Hopefully we can recover by Tuesday. Our defense has played well and led by Alexis Sanchez at fullback we have had a good team effort the past two games."
Soledad qualified for the quarterfinals by defeating #13 seed Pioneer of San Jose 4-1 in Soledad with two goals scored by Carlos Esqueda and one goal Alexis Sanchez. The score was 1-1 at halftime but the Aztecs offense got things going in the second half with three unanswered goals.
Mt. Pleasant began the playoffs with a first round 5-0 win over the #9 seed San Jose High School Bulldogs. On Saturday at Soquel the Cardinals stunned the #1 seed Soquel Knights by a 1-0 score. The Knight began the playoffs with a 4-0 win at home against the #16 seed Pacific Collegiate Pumas.
Gonzales High School hosted #11 seed Sacred Heart Cathedral last Wednesday and suffered a 1-0 first round defeat. Gonzales, the 6th seed and the Mission Trail Athletic League champions finished the season with a 13-3-1 record. Sacred Heart Cathedral completed the week with a win over #14 seed Latino College Prep of San Jose. Sacred Heart Prep will play #7 seed Saratoga in the semifinals who began the tournament with a 2-1 overtime win over #10 Westmoor and a 2-1 win over #15 seed Santa Cruz in the quarterfinals.
The last time that Soledad High reached the semifinals was in the 2015 season when they lost 2-0 to Sacred Heart Prep. The championship final will be played at Valley Christian High in San Jose on Saturday, March 3.