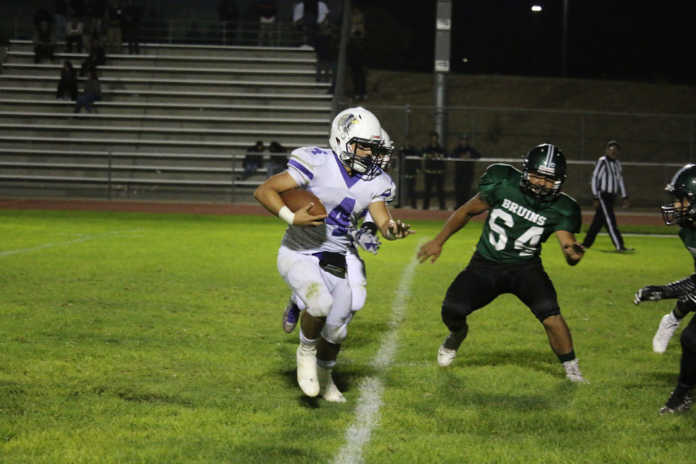 GREENFIELD — Soledad High running back Emanuel Ortega scored five touchdowns to lead the Aztec football team to a 41-0 victory over the host Greenfield Bruins last Friday in Greenfield. The Aztecs scored four times in the third quarter, including to scores by Ortega to improve to 2-2 in non-league play. The Bruins fell to 1-2 in non-league games
"Our offense really got it going in the third quarter," said Soledad head coach Frankie Berlanga. "In the first half Greenfield was moving the ball on long drives and taking time off the clock but we stopped them from getting in the end zone. Our offensive play really took off in the third quarter and our defense kept Greenfield from getting anything going. It has been important for us to come in and play well so we can be ready to open our league season against Carmel at home this week."
Soledad scored the first points of game midway through the first quarter on a 35-yard touchdown run by Ortega and a PAT by Ulises Uribe. In the second quarter the Aztecs took a two-touchdown lead with a drive that ended on a six-yard touchdown by Ortega and PAT by Uribe. The first half ended with Soledad ahead, 14-0.
"I felt we played pretty decent in the first half but just didn't finish our drives," said Greenfield head coach Ryan Bravo. "We moved the ball but you have to credit Soledad for keeping us from scoring some points. We had our chances the first two quarters and then in second half Soledad made a couple of big plays to pull away from us. Our effort was there but we could never move the ball beyond the thirty. We played two good teams in Soledad and Watsonville and now we have to move on and get ready to play our league games starting with our game on Saturday with Harbor (1-3)."
Ortega scored his third touchdown of the game to start the third quarter on a twelve yard run. A missed PAT had the Aztecs ahead by three scores at 20-0. Ortega put some of his track and field experience to good use on fourth score, out running the Bruins on an 83-yard run to the end zone. The PAT by Uribe had Soledad winning 27-0. Aztec receiver Angel Olivas beat a double-team and scored on a 22-yard pass play from Robbie SantaAna as Soledad opened up a 34-0 advantage.
Towards the end of the third quarter Ortega and the Aztecs completed the scoring with a 15-yard touchdown run and Uribe PAT. Leading 41-0, Soledad emptied the bench to give the reserves playing time.
Soledad finished the game with 380 yards of offense including 300 yards and 80 passing yards. Ortega finished the game with 254 yards on 22 carries and Chris Gonzales added 37 yards on two carries. Leading the way for Ortega were Geronimo Serrano (center); Chad Toy and John Tornel at guard; and Victor Ocampo and David Cruz at tackle. SantaAna passed went five of nine in passing efficiency and one touchdown. Andru Holguin caught two passes for 27 yards, PJ Perez had one reception for 20 yards, Olivas had one reception for 22 yards and a touchdown, and Uribe had one reception for eight yards.
Defensively for Soledad Jaycob Olivas led the team with 12 tackles and Marcus Morales had 12 tackles. Uribe contributed with11 tackles and Ocampo just missed double-figures in tackles with nine.
Greenfield finished with 228 total yards, with 179 on the ground and 49 passing yards. Quarterback Andy Hernandez the Bruins with 80 rushing yards on 19 carries and Isaac Pajas ran for 77 yards on 15 carries. Hernandez went six of 14 as a passer for 49 yards. Cayden Patterson caught two passes for 21 yards, Pajas had two receptions for 15 yards, and Rodrigo Frias had two receptions for 13 yards.
In the first game of the evening the Soledad JV's defeated Greenfield, 34-14. Soledad took a 20-7 lead in the first half with a 40-yard pass play from quarterback Damian Mejia to Axel, a 20-yard touchdown run by Nate Aldrich, and a 70-yard touchdown run by Kevin Oliver. Greenfield's Daniel Morales scored on a first half scramble. On their second touchdown Sebastian Meza score on a counter play.
"Antonio Chiquita played well on offense as well as on defense," said Bruin JV coach Bill Riddell. "Ivan Torres also played well offensively and on defense Jose Hernandez, Michael Lopez, and Sergio Aguirre played well."
Soledad head coach Rudy Carrasco praised the play of Johnny Carrillo at linebacker and Jesus Lopez on the defensive line.