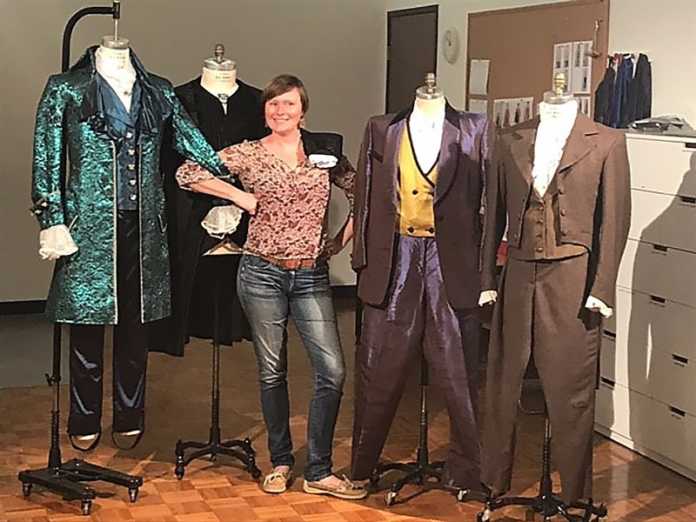 Contributed Photos
BY KAREN BACELLAR
FOR SOUTH COUNTY NEWSPAPERS
LOS ANGELES — When Laina Babb learned to sew at age 6, she never imagined it would lead her to the opera. She has made her love of sewing into a career, first training and then apprenticing as a tailor.
Now, as LA Opera's head tailor, Babb manages a team of up to six tailors (depending on the show). Together they craft all the men's suits used in the company's productions in downtown Los Angeles.
That means she has had a hand in making pretty much every suit you can imagine — elaborate French Revolution-style suits for "The Ghosts of Versailles," 1960s Italian suits for the Woody Allen directed "Gianni Schicchi" and even a flashy, taffeta suit worn in "Porgy and Bess."
Babb has most recently been working on the ornate suits that will be worn in the upcoming production of "Candide," starring Kelsey Grammer and Christine Ebersole, opening this weekend on Jan. 27.
From learning to sew to working at LA Opera
Long before Babb worked at LA Opera, she was just a little girl learning to sew as part of the 4-H program in her hometown of Lockwood, Calif. In this program, children complete hands-on projects that will serve their communities, as part of a larger goal to empower young people and teach them leadership.
Babb took her sewing skills with her to King City High School, where she made costumes in the theater department. Working in costumes in high school spawned her desire to turn a love of sewing and costumes into a career in theater.
Babb enrolled at Chapman University to study technical theater. During her four years at Chapman, she took multiple costume classes, but the technical side of costuming — of building them and solving all a director's staging challenges — kept calling.
When asked why she loves building a suit from scratch, Babb says, "I get to be a master puzzle maker. With puzzles, there are all these flat pieces and shapes and it's your job to figure out how they all fit together. That's how I feel about the technical side of costuming — and tailoring specifically."
Babb didn't always know she wanted to be a tailor, but knowing she wanted more experience in the actual crafting of a suit was enough then. It led her to intern for Central City Opera in Colorado both the summer before and after graduation. That's where Babb was first introduced to the opera costume world.
When she moved back to Los Angeles, Babb found a job as a stitcher at LA Opera. At first, she did many different jobs in the costume shop, but this started to change when Head Tailor John Bishop saw that Babb had a knack for working on men's suits. He gave her those projects and Babb quickly discovered a passion for tailoring.
Thirteen years later, she is one of the few women to hold a senior position, like head tailor, in the field.
"There are very few female tailors," says Babb. She jokes, "When I was younger, I actually thought that a tailor was the masculine version of a seamstress." (Pro tip: Both seamstresses and tailors fall under the job category of stitchers. But they each focus on making different costume pieces.)
She continues, "Tailoring was historically passed down from father to son."
Now, more women are becoming tailors and Babb is optimistic about the future. She says, "In the last two decades, women have started breaking into the field and a lot of female tailors are teaching the next generation."
It also makes a difference to have women like Babb hold senior tailoring positions at major companies like LA Opera.
The life of a head tailor
Babb oversees five or six tailors (depending on the production). In her department, everyone's process is a little different, so each tailor takes a suit from start to finish, including Babb. But, she also knows who on her team is the vest expert, or who loves crafting jackets. She then assigns each suit according to their expertise and passions to get the best product out of each team member.
When asked about her process, Babb says, "Tailoring is a lot about structure and that means a lot of math."
Babb and her team deal with the nitty gritty — including a slew of precise measurements — to bring a designer's vision to life. When she takes measurements, Babb goes beyond regular height, chest and waist measurements. She takes measurements such as knee to waist, or neck to shoulder — to make sure the handmade suit fits correctly. Babb then takes these measurements to find the correct proportions for the pieces in a suit. For example, the typical depth of the armhole is 1/3 of chest measurement +/- 1. This is just one example and sometimes to get proportions right Babb and her team may go as far as splitting measurements down to 1/16.
Once the measurements are taken and the sizes of the pieces in the suit are calculated, Babb makes what's called a block, which is a paper, rectangle layout of the pieces that come together to make the suit. This paper pattern is Babb's foundation, and gives her the front and side seams of the suit. She will add design lines to this block to mark any details that go into the suit, such as space for where the lapel folds over, or where buttons will be.
From the block and before she goes onto the fabric she will use, Babb creates a mock suit out of muslin. She checks to make sure the mock suit matches the measurements she has previously calculated using a body form. Then, Babb begins creating the first version of the suit from fabric.
Two weeks before stage rehearsals begin, this version is used in the first fitting with the cast members. This is where Babb gets a feel for how a suit will fit each cast member.
Once again, there's more math. Finding the perfect fit is math meets adjusting for quirks — those things that make each individual performer unique.
"On paper, we do everything symmetrical, but in reality, everyone's a little uneven," says Babb. "One arm might be a little longer than the other. One shoulder might be lower than the other. Or you might lean more to your right. The first time we get a suit on the actual person, we adjust for those little quirks."
When an artist is singing on stage, wearing a well-fit suit is key. That's because, the singer needs to be comfortable, while staying true to the character they play.
After making the necessary adjustments and a second fitting, the suit is ready to be worn on the stage. Babb's tailoring process is complete.
Since she started in 2004, Babb has worked on hundreds of suits at LA Opera using this same process. From opera to opera, the suits may change, but Babb's passion for tailoring remains constant.
When asked what she loves most about being a tailor, Babb says, "I like that suits look so sharp. It's not something you'll necessarily notice as an audience member. You aren't sitting there thinking, 'Oh, that's great tailoring.' An ill-fitted suit says something completely different about a character than a clean-cut suit does. I like that a suit can change a character."
To see Babb's suits on the stage, learn more about and purchase tickets to LA Opera's 2018 season, go online to www.laopera.org.