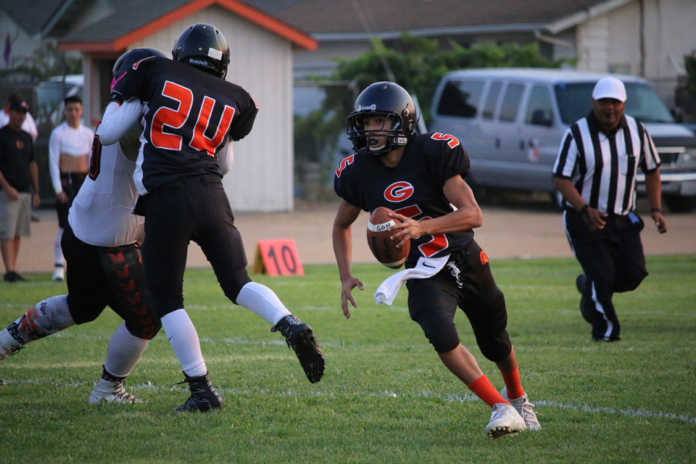 GONZALES — A potent running game and a short field was all the Coalinga High Horned Toads needed to defeat the Gonzales Spartans on Friday at Dick Force Stadium. Coalinga improved to 2-0 after the 48-14 win and Gonzales fell to 0-2 in non-league play.
"We knew they were going to run the ball at us and we didn't help ourselves for being at the right spot to make a play but not coming up with a tackle or making a stop. We also shot ourselves in the foot penalties that gave Coalinga a short field to work with offensively. They (Horned Toads), were a lot faster than they look and that wore us down as the game went on."
The game started at 8 pm because of the high temperatures that may have been an advantage to the visitors from the south that come from a hotter location. The game came to a stop in the opening minutes when Payton Flores caught the kickoff from Coalinga and went down after being tackled close to the 30-yard. Flores was unable to get up on his own power and as a precaution the Gonzales Fire Department tending to the fallen athlete until an ambulance arrived. Flores was conscious when he was transported to a local hospital.
"It looks like Payton has a few bruises to his rib area and shoulder but should be able to return to play in a couple of weeks," said Gonzales head coach Arthur Berlanga. "Having him go out really took a lot of our team because it was like losing four players because Payton is a good kickoff and punt return player. He also starts on defense and is one of our better receivers. It is hard to replace a player like him."
Coalinga scored a rushing touchdown at the 6:18 mark of the first quarter and led 6-0 after a missed PAT. Three penalties on Gonzales helped set up the Horned Toads in good field position. The Spartans played well defensively at the start of the second quarter and forced Coalinga to punt on a fourth and ten. At the 7:57 mark Dominic Emery caught a pass from Raul Morales and outran the Horned Toads 88 yards for an exciting touchdown that had the Gonzales crowd on their feet. A PAT by Jaime Perez gave the host team a 7-6 lead.
Less than a minute later Horned Toad running back Eric Saldana caught a slant pass and run for a 35-yard touchdown. Coalinga led 14-7 after the PAT. The Horned Toads scored on a rushing touchdown to take a 21-7 lead and the half ended when Morales was tackled just yards out of the endzone.
The Horned Toads kept blocked a punt and benefitted from a few more untimely penalties on the Spartans to take a 35-7 third quarter lead. Coalinga padded the lead to 41-7 with another rushing touchdown but Gonzales got on the scoreboard with 11-yard touchdown by running back Hernan Mojica and PAT by Perez. Coalinga scored on last time in the final quarter for the 48-14 final.
"We need to improve our all-around play to be ready to host Pacific Grove on Friday," said Coach Berlanga. "They (Breakers), are coming in with 0-2 record just like us and we will be out to win the game anyway we can. We feel that have the team to beat them even though it has been many years since we have beaten Pacific Grove. Now is the time because we have to be playing better for our league and with the game next week at King City."
In the junior varsity game the Horned Toads completed a sweep of the Spartans with a 34-0 victory.
"We didn't get the W but we found some players that we can start plugging in certain spots," said Gonzales head JV coach Ruben Alvarado. "These preseason games are going to come with of teaching with growing pains. We are a very young group of freshman with only six sophomores. In the game Jose Lopez did well stepping in a defensive end and fullback. Our goal is to improve every week."