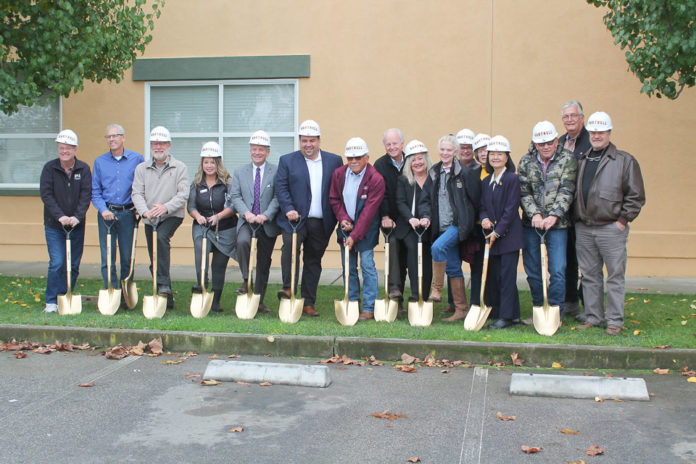 KING CITY — In a packed room at the King City Education Center on Dec. 3, King City community leaders and Hartnell students, employees, trustees and friends gathered to kick off construction of an expansion that will double the size of the center by January 2021.
This historic milestone for the 17-year-old facility at 177 N. Second St. was capped by a groundbreaking ceremony in the parking lot, where the 12,500-square-foot expansion will be built. The project will add two new flexible classrooms, wet and dry science laboratories, a Student Success Center and a community room.
Program speakers highlighted the generosity of donors who contributed to the center's original construction and the 2016 campaign to approve Measure T. The $167 million bond measure is funding the King City expansion, as well as new Hartnell centers in Soledad and Castroville and a new nursing and health sciences building on the college's Main Campus, among other projects over the next several years.
"The people of South Monterey County, and of King City in particular, remain strongly committed to providing access to education that also supports development of the local workforce, such as Hartnell's joint Teacher Pathway bachelor's degree program with Cal State Monterey Bay," said Hartnell Superintendent-President Patricia Hsieh.
King City Mayor Mike LeBarre stressed the long-term impact of the expanded center on King City and South Monterey County as a whole.
"Students have more opportunities than ever before," LeBarre said. "To go from high school to college right here in town, to earn your degree, to work with local employers — that is what strengthens our community, and I thank all of you for that."
Susan Gill of King City, a longtime supporter of Hartnell with her husband, David, and a current member of the Hartnell College Foundation board of directors, echoed that point when she said, "In this modern world, our local community will be able to hire our students and residents from this college, and it will transform our community."
Hartnell Community College Area 7 Trustee Candi DePauw was also a featured speaker for the groundbreaking program.
"I know our students are really going to benefit from this, and they probably don't even realize that one of the biggest lessons they're learning is from the examples you all set," DePauw said. "One day, they're going to wake up and go, 'Look what these people did for us. We need to give back, and I think that's tremendous."
Representatives of State Sen. Anna Caballero (D-12) and Assembly Member Robert Rivas (D-30) presented Hartnell with a certificate of recognition, with congratulations for the expansion.
"Creating a state-of-the-art facility in King City is wonderful for not only the city but all of the residents of the Salinas Valley as well," said Ricardo Estrada, field representative for Rivas and a Hartnell graduate. "It is exciting to see so many different entities collaborating for a positive cause — that is access to a post-secondary educational institution."
Those in attendance also heard from 2014 Greenfield High School graduate Mayra Gonzalez, a 2017 Hartnell graduate who continues to attend the King City center as a student of Cal State Monterey Bay. She is a participant in the joint Hartnell-CSUMB Teacher Pathway Program and plans to remain and pursue her teaching career in the Salinas Valley.
"It is thanks to the King City Education Center and the tireless work of those who have brought education closer to home that I've had my opportunity to earn my A.A. and continue pursuing my education right here," Gonzalez said. "The sky's the limit with the King City Education Center."
---
Article submitted by Scott Faust, Director of Communications and Marketing at Hartnell College.