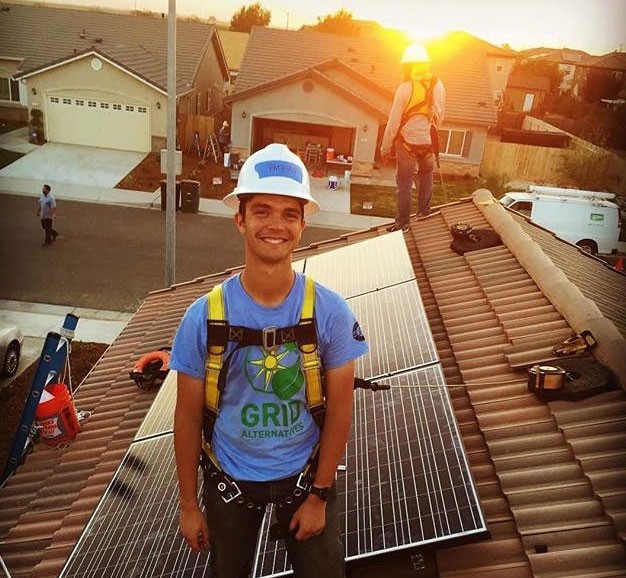 Contributed Photo
GRID Alternatives and volunteers are working on installing solar panels on homes on the Central Coast.
SOUTH COUNTY — GRID Alternatives is accepting applications from low to moderate income homes in the cities of Greenfield, Soledad and Gonzales.
GRID Alternatives has a program called "Energy for All" and is part of the non-profit organization that is solely based out of state and local funding. The program provides services to low to moderate income homeowners throughout Monterey County and works with families to install solar panels, making the change to renewable energy sources.
"Our program focuses on providing renewable energy access to families," said Mayra Guzman, outreach coordinator for GRID Alternatives. "We're trying to reach out to the families that would want to access to renewable energy but at the same time benefit from the savings on their energy use."
According to Guzman, program participants can save 85 percent to 100 percent on their energy use by installing the solar panels.
The requirements for the program include being a homeowner, live in the home, verify income with tax forms or pay stubs, and be a PG&E customer. Before installation, GRID Alternatives also has to look at the condition of the roof at the home to make sure it can support the solar panels.
The process can take anywhere from three to six months for approval, and because GRID Alternatives "Energy for All" is a state and local funded organization, it is at no cost to the homeowner.
The panels are installed by CET and other work force development programs and work with the construction team from GRID Alternatives over the course of two to three days.
"We just celebrated our 1,000th install in June for the whole Central Coast area," said Guzman.
Education on maintaining solar panels is also given during the application and installation period. Once installed, the solar panels last approximately 20 years with maintenance and are recycled after those years.
GRID Alternatives is partnering with King City as well, but is still in the process of developing their special project.
King City is developing its own power service and once that program launches, customers will be referred through that process.
To possibly qualify for the program, homeowners should call GRID Alternatives at 831-784-8549 or stop by the office at 285 Griffin St. in Salinas.