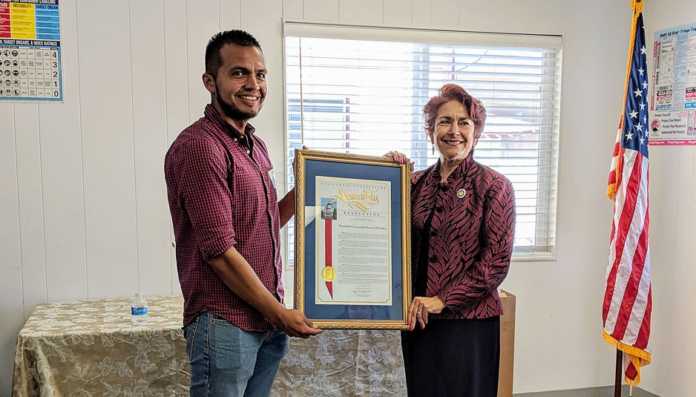 Contributed Photos
Greenfield Community Science Workshop Program Coordinator Jose Sanchez accepts the 2018 Non-Profit of the Year award from Assemblymember Anna Caballero during the June 21 opening of her district satellite office in Soledad. Below, the workshop displays a skeleton of a juvenile gray whale.
GREENFIELD — Greenfield Community Science Workshop, which offers free hands-on science activities for South County youth and families, has been recognized by Assemblymember Anna Caballero as the 2018 Non-Profit of the Year for the 30th Assembly District.
"We feel honored and humbled to have been recognized by Ms. Caballero," said Jose Sanchez, program coordinator for the science workshop. "More than anything, this award is recognition of the work that the Greenfield Community Science Workshop (CSW) has been doing for the past seven years."
Caballero presented the award June 21 to Sanchez during the grand opening of her district satellite office in Soledad. She said Sanchez provides an "exciting opportunity for students and their parents to develop a curiosity about the natural world around them."
"He encourages them to learn by asking questions, building and creating," Caballero added. "Their program is a great addition to South County. Nonprofits like Greenfield CSW make California communities stronger."
Greenfield Community Science Workshop, located at 45 El Camino Real, was established in 2011 as part of a statewide network of science workshops that have been serving youth in California's most underserved areas for more than 25 years. The City of Greenfield provides essential support and services for the program, which also receives grant funding.
"In 2011, the Greenfield Community Science Workshop was just an idea, now it's a program that offers free science to thousands of students across South Monterey County," Sanchez explained. "It has taken a tremendous amount of work from a variety of people — employees, colleagues, volunteers, friends, etc. — to build the program we have today, and even though it's still growing and evolving, the program is having a significant impact in the lives of youth and their families."
The science workshop is a community-based organization committed to providing a safe, fun and stimulating environment where youth and their families can explore the world through science.
"This award brings attention to the importance of having community-focused learning spaces in under-served communities like those of South County," Sanchez said. "We love Greenfield, and Greenfield youth will always be our priority, but our vision is to one day establish science-learning spaces in every town across the county."
Currently, the science workshop runs five major programs across South Monterey County, reaching more than 15,000 youth to date. Its core offering, a drop-in program, gives free access to a community-oriented science learning space in downtown Greenfield for local youth and residents.
Other programs include the South Monterey County Mobile Science Workshop Program, which offers hands-on science learning opportunities year-round to youth in King City, San Ardo and San Lucas; and the Science Technology Engineering and Mathematics (STEM) Enrichment Program, which provides activities that promote STEM concepts to students enrolled in the After School Education and Safety Program through Greenfield Union School District.
"We hope that this recognition will encourage leaders in South Monterey County towns to reach out and collaborate with us to offer every child free access to science," Sanchez said.