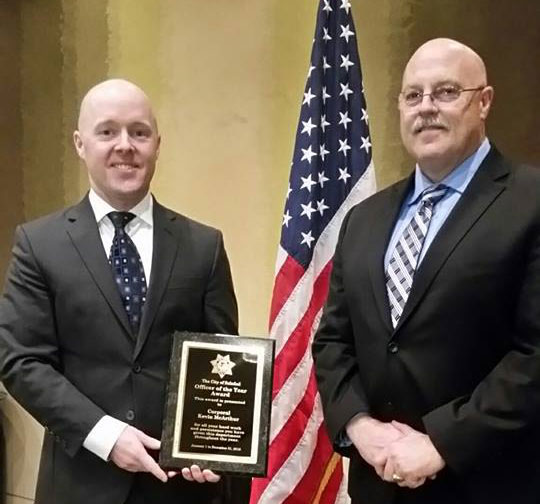 SOLEDAD — Last month Peace Officers from throughout Monterey County met for the Monterey County Peace Officers Association's Annual Peace Officer of the Year awards dinner.
The event celebrates members of Monterey County area Law Enforcement agencies, including city Police Officers, Monterey County Sherriffs and the California Department of Corrections.
For the City of Soledad, the 2016 Officer of the Year is Cpl. Kevin McArthur.
"I had the honor of recognizing Cpl. Kevin McArthur for being selected as the Soledad Police Department's Officer of the Year for 2016," said Soledad Police Chief Eric Sills. "Kevin was selected by his peers for his excellent work ethic and commitment to service."
Over the past year, McArthur made more than 230 misdemeanor and felony arrests, in which he recovered a number of firearms from off the street.
McArthur, along with a number of officers from other Monterey County law enforcement jurisdictions, was recognized at the annual Monterey County Peace Officer's Association award ceremony at the Hyatt Regency in Monterey.
In addition to McArthur's law enforcement achievements, he was also recognized for his ongoing service in the California Army National Guard, where he continues to serve in the Reserves.
Prior to being sworn in as a full-time police officer, Kevin served as a combat medic and was deployed on two tours of duty in Iraq and Afghanistan. In addition, Kevin was selected to be a member of the prestigious Army Honor Guard and participated in over 700 military funerals.
This event was created to recognize and support the hard work done by the Monterey County Law Enforcement community.
Others recognized during the ceremony were: Seaside Officer Fred Carlin for Large City Department Award, Sand City Sgt. Jeff Bushnell and Officer Larry Escobar for Small City's Award.
For California Department of Corrections: CTF Soledad, Sgt. Phillip Cox, for Salinas Valley State Prison; Supervisor of the Year, Lt. David T Amriz; and Employee of the Year, Correctional Counselor I, Robert M. Gaither Jr.
Monterey County Sherriff's Office – Deputy Sheriff Mike Smith, Enforcement Operations and Deputy Sheriff Matt Staley, Corrections Operations. Monterey County Probations – Officer Andrew Banua.