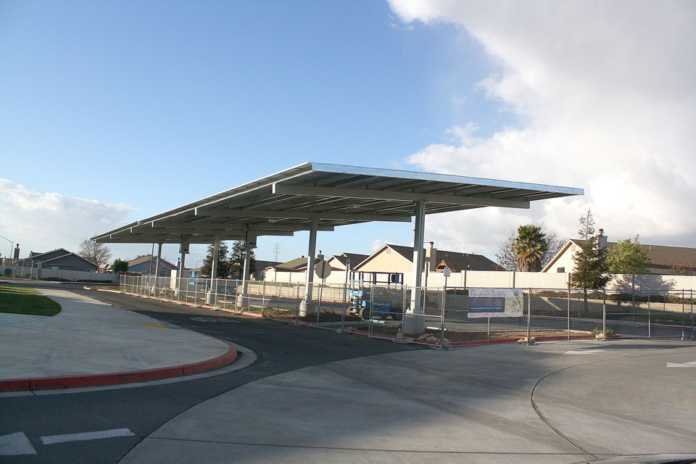 Photo by Samantha Bengtson
Frank Ledesma Elementary School electrical installation for its solar power project will be complete March 2.
SOLEDAD — Soledad Unified School District is changing over to solar energy and plans to take their project to Washington, D.C., this spring. The district is also wrapping up the last portions of the solar array projects.

"It's amazing to see this district and how progressive they've been with solar energy in this community," said John Dominguez of School Site Solutions.
Dominguez is planning to travel to Washington, D.C., in mid-April to meet with the Department of Energy, members of Congress, Senate members, Energy Commission and the President's Council on Education concerning Proposition 39 issues and school facilities issues.
"I've been doing this for the last 20 years of going back to Washington, D.C., and lobbying for that cause," Dominguez said. "This year we're going to showcase the districtwide solar project that Soledad has put forward at the direction of Mr. Vega."
The solar project is about 75 percent complete, according to Dominguez. The project that is behind schedule is the solar arrays at Main Street Middle School due to relocation of the arrays.
The electrical installation or all the underground wiring and the inverters underneath the canopies are currently being installed. Dominguez is anticipating that this part of the project installation will be complete by Feb. 23 for Rose Ferrero Elementary School and Jack Franscioni Elementary School.
Frank Ledesma Elementary electrical installation will be complete on March 2 as well as San Vicente Elementary. Main Street Middle School is anticipated to be the final project, finishing electrical installation on March 9.
In order to restore power to the school grid sites, there will have to be a power shutdown at each site. The shutdown and "tie-in" is expected to take six hours and will occur on Saturdays, Feb. 24, March 3 and March 10, which may impact after-school activities that need power to proceed as planned.