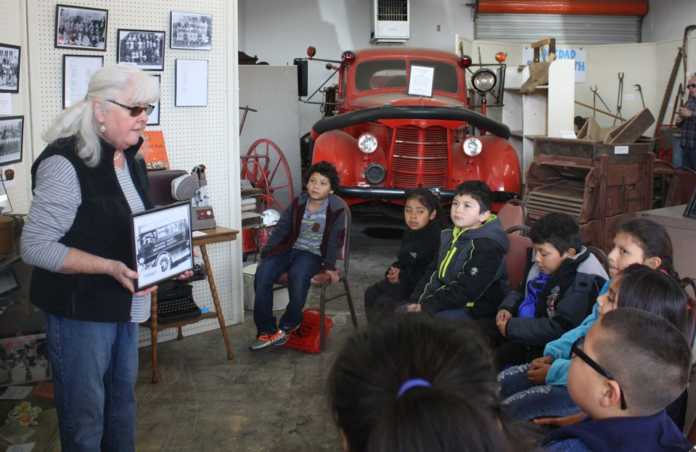 SOLEDAD — April 2018 marks the 65th anniversary of the opening of San Vicente and Main Street schools, and the Soledad Historical Society is recognizing the schools' honor with a museum exhibit, talking with local youth about what school looked like back then.
Over the past week, six first-grade classes from San Vicente and Gabilan Elementary visited the exhibit and spent time at the Soledad Fire Station.
Historical Society Member Craig Stephens spoke to the first graders about what Mission School looked like in the past and showed them a picture.
"All the students were in one classroom at the same time with one teacher," Stephens said.
The exhibit shows girls wearing dresses and how much schools have grown in 65 years. Soledad students had to find a way to get to school, with some using the bus. In the past, however, the bus was shorter than they are now with approximately three windows to take students to and from school.
Historical Society Member Kay Hadley showed the first graders how counting occurred then with an abacus, a wooden counting tool with different colored balls that can be pushed to the left or the right.
Soledad Historical Society also covered the Spreckles Sugar Factory as well as why a blacksmith was so important to residents.
"The horse shoes would get worn out and new shoes would be put on," said Society Member Joe Gribas. "That was the blacksmith's job. He also made the metal for a new wagon wheel so they would last longer."
The school exhibits opened in November and will stay open until May. Afterward, the school exhibits will change to an agricultural exhibit in June.
The Soledad Museum, which hosts the annual Farmer's Market, will open April 5 and run every Thursday. The museum will also be open that Saturday, April 7.