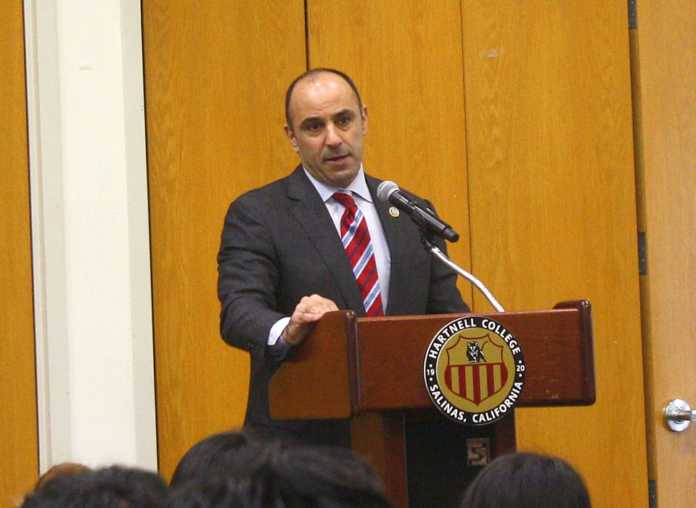 SALINAS — Congressman Jimmy Panetta visited Hartnell College students last week to speak about Deferred Action for Childhood Arrivals (DACA), where the House stands in reaching a proposal and what Dreamers should do.
"In September President Donald Trump announced that he would take the opportunities that you have, take that away from you by calling for the end to DACA," Panetta said at the Jan. 24 event held at Hartnell's main campus in Salinas. "He challenged Congress to come up with long-lasting legislation to replace the DACA program."
Trump set a deadline of March 5 to have the legislation for DACA. Panetta said something as important as this would be thought to have already had a solution, but no deal has been reached.
"Our country is very diverse, it is very different in all corners of our nation and that does make policy and politics when it comes to our immigration very very difficult," Panetta said. "We're so lucky to live not just in the Central Coast, we're lucky to live in California. The No. 1 state for Dreamers, close to 240,000 dreamers."
According to Panetta, the second highest state for Dreamers is Texas and the third is Illinois.
The rush to reach an agreement in Congress concerning DACA and Dreamers is because every day leading up to March 5 over 100 Dreamers are losing their status.
After March 5, over 1,000 Dreamers will lose status.
"Please continue to excel and do it with the confidence knowing that there are representatives on both sides of the aisle that are not just standing with you but they are fighting so that you fulfill the American Dream," Panetta said.
Hartnell College opened the first DREAMER center, Mi Casa (Center for Achievement and Student Advancement) in April 2016. Through Mi Casa, Hartnell College provides support for the 800 DREAMER students.
"Mi Casa has become a beacon of support, of hope, and inspiration for our students," said Willard Lewallen, superintendent/ principal of Hartnell College.
Student Adriana Gonzales, who missed her eighth grade trip to Washington, D.C., because of her undocumented status, attended President Trump's State of the Union address on Jan. 30.
Another Hartnell College student Daniel Diaz developed a Facebook page that consists of DACA students and their stories.
People who have DACA can now renew whether DACA is going to expire or has already expired, according to Immigration Attorney Magnolia Zarraga. If the DACA expired before September 2016, it has to be renewed as an initial filing.
"What that means is that you have to submit all new evidence as when you first applied," said Zarraga. "Evidence of your entry, evidence of your continuous presence, and evidence that you were here on the day of the announcement. Everyone else will just renew as a regular renewal."
Zarraga is encouraging everyone regardless of when their DACA expires to renew. Zarraga and Panetta said to spread the word about DACA and that students should reach out to people in other states to talk about the issue and why it is important.